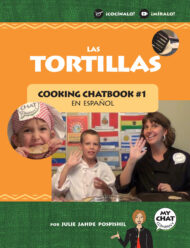 5 Steps to Homemade Tortillas
Many people buy tortillas in a package or get them with fajitas at your favorite restaurant, but making your own is as easy as 1-2-3 (4-5). I've made tortillas with every age from toddlers to great grandparents- although be sure to watch the hot skillet with kids. As a bonus, they are gluten, wheat & nut free! I love to bring my electric skillet into preschool & elementary schools, community college classes and even family reunions at Okoboji.
To buy my Children's book about Tortillas with the step by step recipe in Spanish Click here.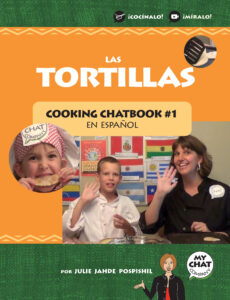 1. First you will need a package of tortilla flour. I usually use Maseca. Mix the dough (masa) according to the package directions. I use warm/hot water and a little salt. Not too hot since you need to get your hands in there to mix it.
2. Mix the dough and knead it -that should help your tortillas to puff up later as you cook them. The dough should not be too sticky (add tortilla flour) or too crumbly (add water).
3. Roll a golf ball size and then smash it with your hands, a plate or a tortilla press. Place wax paper or a cut open Ziploc bag above and below the tortilla so that you can peel this off. Believe me you will know if you forget this step. In Latin America they use old plastic grocery bags which adds a little dirt flavor. If this peels off nicely you have the right dough- if it is sticky or crumbly go back to step one. By the way a tortilla press is under $20 and makes very consistent tortillas!
4. Place the flat dough circle onto a skillet and cook for a few minutes on each side. If you want them to puff up you could add a little oil to the pan.
5. Add toppings – my kids like butter and cinnamon/sugar but you could also add meat, salsa and anything else.
Eat them!
For more cooking recipes see our Cooking Chatbooks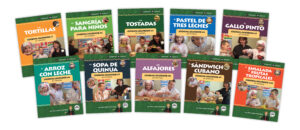 To learn more Spanish try our online courses for adults & kids – Our Elementary Spanish Chatbook has 10 recipes with10 Kids' cooking shows.

Once you make these homemade tortillas – you will notice the difference and everyone around you will request them at your next event!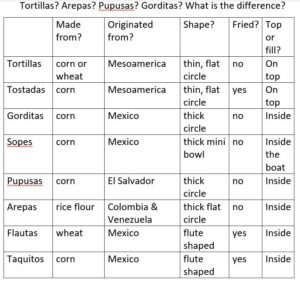 Author/Educator Julie Pospishil has taught Spanish, ELL & Resilience for over 20 years and has traveled to 17 of the 21 Spanish-speaking countries. Follow My Chat Company on social media for more fun recipes and cultural chats.